I just received a copy of Dave Perkins latest CD Pistol City Holiness
, and overall I really like it. This CD will be getting heavy rotation in my CD player for sure.

Dave Perkins is one of those musicians who has "crisscrossed the map of American music." And it shows, this CD is well crafted and the presentation shows a deep understanding, respect and love of playing, esp playing blues music.

The overall sound of the CD is very bluesy, that is propelled by a big bad harmonica, some smoking boogie woogie piano playing, whaling electric guitars and very good singing. Perkins lyrics are steeped in the blues, but fresh as he delivers them with confidence and style. There is no doubt that Mr. Perkins is a student of Muddy Waters and Howlin' Wolf.

I really enjoy how many of the themes of blues, folk, gospel, and rock music are blended here to make a coherent whole. Which again speaks to how good the lyrics and the delivery are here.


With Pistol City Holiness, Perkins comes full circle to his first love—the blues. "The blues was the first music to capture my imagination," says Perkins. "It grabbed me because it was something other—alien—and, yet, at the same time, deeply familiar. I've never gotten over it. I've worked in a lot of different styles of music, but my approach to each one was and will always be shaped by the blues."
I really enjoy the harmonica playing of TJ Klay, and the piano and organ playing of Reese Wynans on this CD. As a matter of a fact that is what stands out about this CD, the playing is top level. And Dave Perkins' singing and electric guitar make this a pile of red hot smoking blues rock. Just the way you like it.
Track Listing for Pistol City Holiness
1. Break (starts and ends with some blistering Harmonica)
2. Going Down (singing and guitar playing)
3. Cherryfish & Chicken (nice harp and organ work)
4. Reveval (nice gospel themed blues rock here)
5. Long Eleven Road (love the interplay of harp and guitars)
6. Bottles and Knives (barrel house at its best, great piano)
7. Train at Night (foot tapping blues song, reminds me of Muddy)
8. Flown (one of those sad heart ache blues songs)
9. Tiger Texas (good Texas blues rock, lyrics)
10 Devil's Game (sweet little blues song, cool acoustic guitar)
11. Preacher Blues (great lyrics, more religion and spirituality)
12. Mercy in the Morning (great singing, harmonica and organ playing here)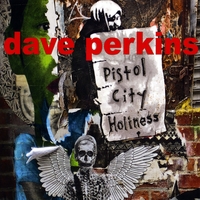 @CD Baby
Pistol City Holiness @Amazon.com
Dave Perkins @MySpace